Your brand is the Magician Brand Archetype- ready to learn how to use it?
Understand the Magician Archetype:
The Magician is a visionary that has an uncanny knack for turning their flights of fancy into charming realities. Their charisma and unique point of view frequently allow them to do the impossible. This archetype creates magic in order to better understand the universe they live in.
The Magician fears that, in trying for big things, they might inadvertently create negative consequences. Sometimes dallying with the unknown can cause a disaster, making them seek to manipulate things in order to fulfill their vision. However, the Magician usually has the skill to unearth win-win solutions.
Brands that enact transformations are a great fit for the magician archetype, although they may find it difficult to comfortably step into the role. This is a common archetype for very successful entrepreneurs and atheletes due to the ability to visualize a goal and achieve it.
Purpose:
The magician brand archetype also known as the visionary, innovator, alchemist seeks knowledge of the fundamental laws of how the world or universe works and to apply these principles to getting things done. They seek to develop a vision and realize it and are masters of transformation. When things go wrong, Magician brand archetypes look inward to change themselves (If you want to change your world, you begin with changing your own attitudes and behaviors).
Strengths:
The magician brand archetype is the master of finding the win-win solution. They can instill in others the belief that miracles are possible by their ability to realize their visions. They have strong intuition and ability to piece together seemingly unrelated information from multiple sources.
Challenges:
Because of their charisma and charm, the magician brand archetype is prone to heavy handedness and manipulation. They fear failure and unanticipated negative consequences if their visions go awry.
Brand Voice:
The magician brand voice encourages the customer to know themselves truly and deeply. They are the gurus offering enlightenment. Change and self improvement are fantastic ways to offer the transformation in accessible ways. Before and after case studies are a perfect way to present the transformational process. DIY and training as a way to "pull the curtain" back on the process and allow a window into where the magic happens is also a good way to share the brand. The Magician brand archetype company or professional is positioned as the guide through the transformation for the customer – the Merlin to the Arthur of the brand story.
Customer and Brands:
The brands and products that are a good fit for the magician brand archetype are surprisingly varied. The bottom line is, if your product or service causes a transformation or transformative process, it most likely is a good fit for the magician brand archetype. For example, corporate change strategies, miracle drugs, herbal remedies, spas, exotic travel, and any product or service that directly affects consciousness. This brand archetype appeals strongly to New Age consumers. It is often used with modern technologies. Charismatic politicians and business leaders may find this brand archetype a good fit. If your services have a spiritual or psychological component, the magician brand archetype is also a good choice.
Pin this handy reference sheet: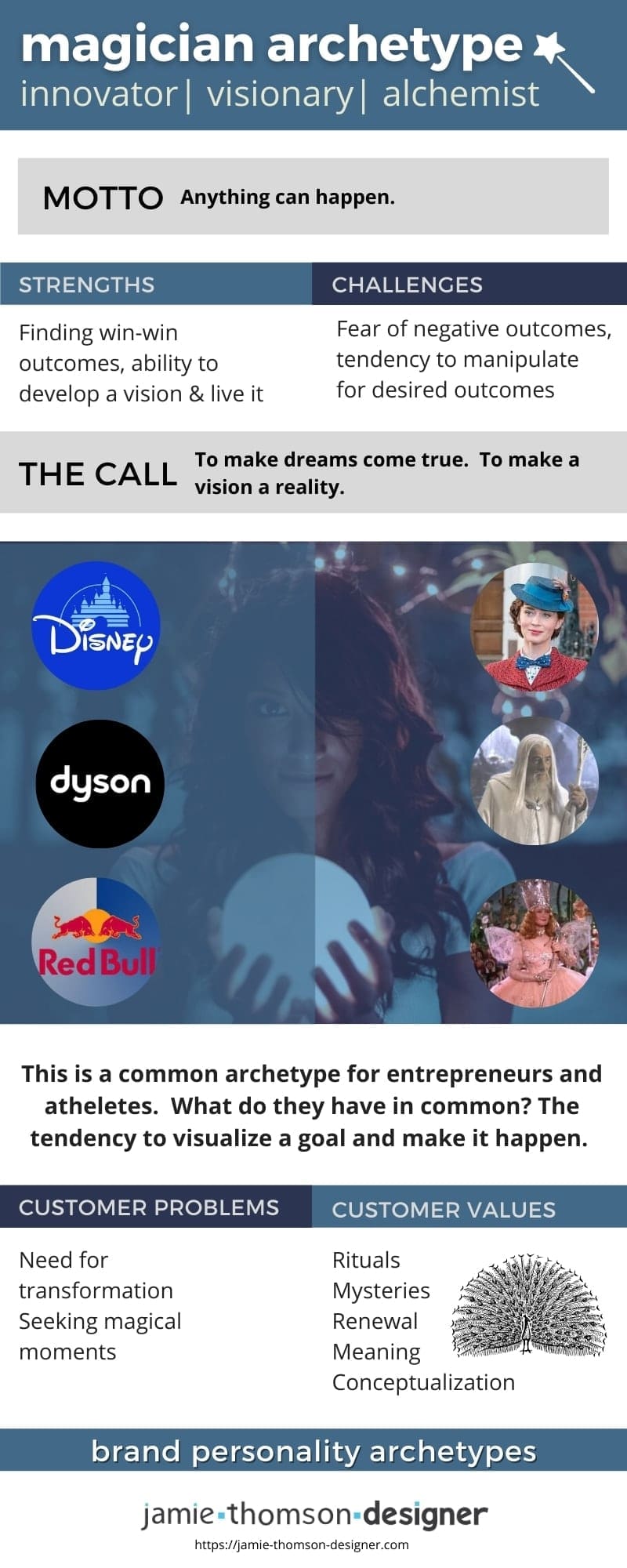 Not sure you found the right archetype?
Most brands are a mix of more than one archetype – and two archetypes can be tricky but very rewarding to blend. Below you will find links to all of the archetypes so you can familiarize yourself with other descriptions and characteristics to see if there is one that feels like a better fit for you and your brand. If you are still struggling – feel free to contact me to chat and see if together we can sort out what works best for you!
Learn about all the brand archetypes: