Your brand is the Hero Brand Archetype- ready to learn how to use it?
Understand the Hero Archetype:
The Hero is always willing to fight— metaphorically or literally—for the underdog. Their strength, bravery, boldness, and discipline means they often become champions of those weaker than themselves. Their willingness to dig in and work when things get hard inspires those around them.
Always aiming to prove their prowess, the Hero abhors being weak, vulnerable, or cowardly. Sometimes they overcompensate for any shortcomings by becoming dictatorial or seeking out a fight. But at their core, Heroes will prove their worth through courageous acts and mastery that improves the world.
It's really no surprise that coaches and trainers are often Hero archetypes. Who better to inspire their customers to become stronger, better versions of themselves than this archetype?
Purpose:
The hero brand archetype, also known as the warrior, superhero, crusader, rescuer, and warrior aims to make the world a better place for themselves and others through discipline, focus, and the ability to make tough choices. They want to prove their worth through courageous and difficult action – and are often encouraging others to do the same.
Strengths:
The hero brand archetype is gifted with confidence, competence and courage. They see a challenge and instead of ignoring it or deciding it is too hard, they are willing and ready to rise to it. They are good at setting goals and boundaries and setting about making changes – for themselves and others.
Challenges:
The hero needs to be aware of tendencies towards arrogance and developing a need to always need to have an enemy to combat. They fear weakness and vulnerability, and tend to view backing down from a fight as weakness.
Brand Voice:
The hero brand archetype brand voice emphasis is on proving yourself. Cloaked (or outright) calls to "be a hero" to your customer – in traditional or non traditional ways help them to answer the call, while positioning yourself as the coach and your customer as the hero of the story. Evoking the spirit of competition is a fantastic use of the hero brand voice. Emphasizing the strength of the survivor is another. The hero brand archetype is definitely about the strength and resiliency of the target audience.
Customer and Brands:
The hero brand archetype is a good fit if you have an invention or innovation that will have a major impact on the world or if you have a product that will help people perform at their upper limit. If you are addressing a major social problem and asking people to step up to the plate to help address it, the hero brand archetype is a natural fit. If your brand has a clear opponent or competitor that you want to beat, the hero brand archetype is a good fit as you position the other brand as the villain in the marketing story, whether you are placed as the underdog or not. The hero is great if you have a product or service that does a tough job efficiently and well. If your brand is differentiating from a product or brand that struggles with follow through, this is also a good choice.
As with all great superheroes, if your customer base identifies as "good, moral citizens", this brand archetype may be a good fit.
Pin this handy reference sheet: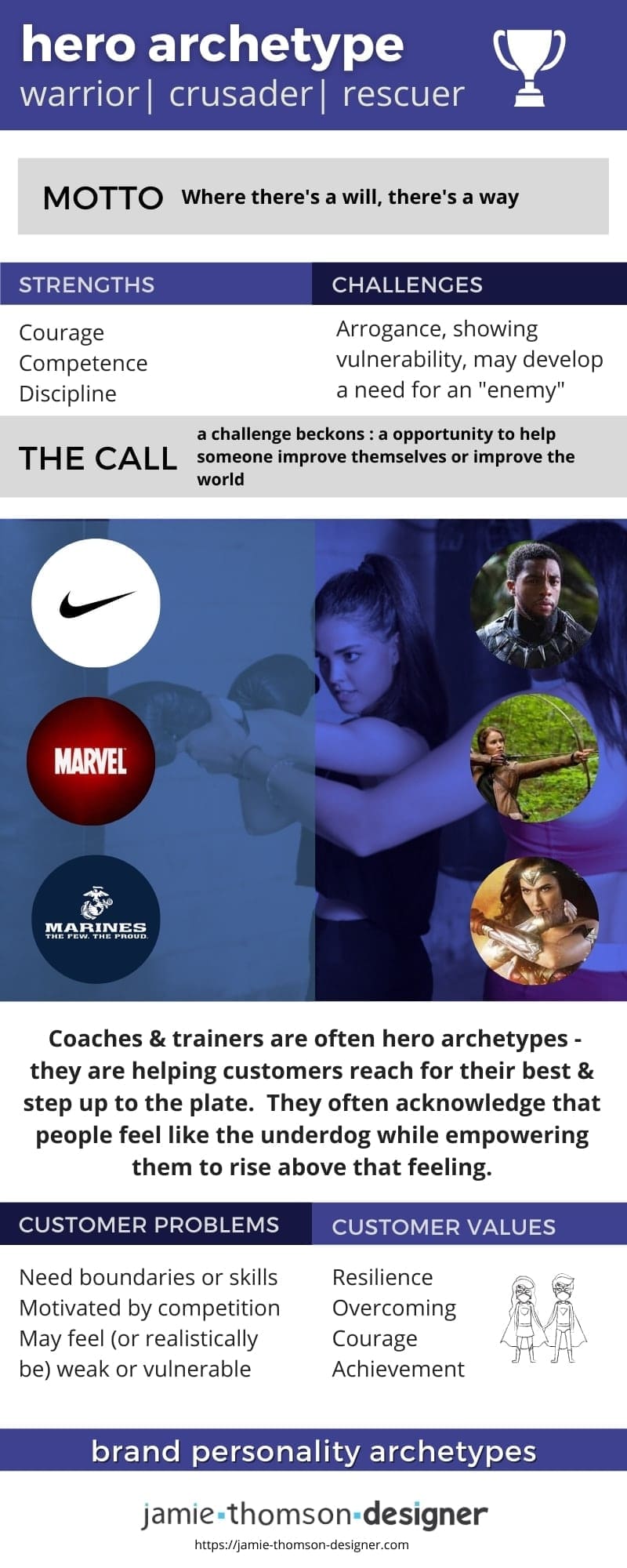 Not sure you found the right archetype?
Most brands are a mix of more than one archetype – and two archetypes can be tricky but very rewarding to blend. Below you will find links to all of the archetypes so you can familiarize yourself with other descriptions and characteristics to see if there is one that feels like a better fit for you and your brand. If you are still struggling – feel free to contact me to chat and see if together we can sort out what works best for you!
Learn about all the brand archetypes: