Event Planner – Web Graphic Design
Dynamic, jovial event planner
Mad Hatter Promotions is run by Gary Haas who organizes, promotes and hosts, events including bicycle bar tours, pirate parties, and bar hops in the Melbourne and Cocoa Village, Florida area. Energetic, fun parties, social events, networking activities and just plain fun! "A Society of Adults, Single or Otherwise, Community Connected & Involved." Very often benefitting charities, local and far reaching.
Legacy customer, uninterrupted service
Gary's site began as a redesign in collaboration with DigiDonkey Web Design in Cocoa Village, FL in 2015.
It is a custom built PHP/HTML template that could be easily updated as new events came up and needed to be added. Event banners are designed in house and often shared on Facebook as the pages serve as Paypal payment stations and event landing pages. Gary continued on as a customer of Brilliant Blue Designs and Jamie Thomson once Digi Donkey closed.
Designs Adapt as Platforms Change
The biggest challenges for providing services for Gary have been in adapting his pages and banners to best suit the platforms they would be shared to. The initial design was built so that someone familiar with the code and familiar with his events could put the new events in within a very short period of time, with the page banners taking the majority of the time. That has not changed in the past four years. What has changed is the way that social media platforms like Facebook display images on event pages and timelines. His images need to show past events and relevant details while also displaying the bright colors and fun that he is known for. Gary is certainly not shy, so his designs should reflect that outgoing personality.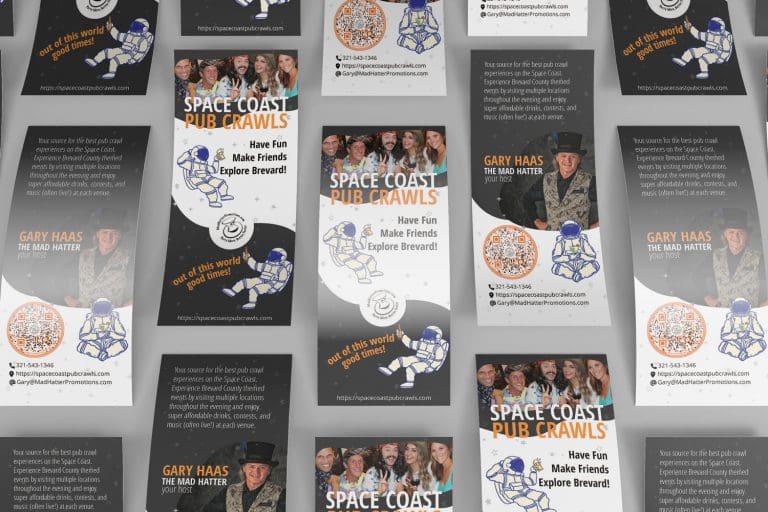 Gary is one of my regular full service direct customers and he has been with me the longest.  I have gone on to design a landing page in addition to his main site, done marketing material designs, and continue to update his main site regularly. 
His main site: https://www.madhatterpromotions.com/
Thank you so very much for your service! I am now spoiled by how quickly you respond to my requests both in answering my questions and updating my web site. You are also very creative regarding the event page banners. Your rates are reasonable and I hope you will be doing this for a long time to come. MadHatterPromotions.com needs you.